Advanced Implant Surgical Hands-On Course
Socket grafting, horizontal and vertical GBR, soft tissue grafting
and open and closed sinus lift procedure

with

Dr. Sascha Jovanovic
Sept 19, 2020 in Los Angeles
REGISTER

GBR MODULE: HANDS-ON (1/2 DAY)
Participants will practice on mandibular pig jaw models, with the latest implant designs, microsurgical hand instruments, bone tacks, bovine filler materials and resorbable, membranes and growth factors with ti-mesh. The training treatments will be:
Horizontal ridge augmentation with simultaneous implant placement, layered bone graft with resorbable membrane placement & fixation sutures
Horizontal ridge augmentation with resorbable membrane placement, bone tacks & 1:1 ratio mixed Xeno/Auto bone graft
Vertical ridge augmentation with titanium reinforced PTFE cytoplast membranes, bone screws & 1:1 ratio mixed Xeno/Auto bone graft
Each workstation is equipped with implant drill unit, dental implants, fresh pig jaw model, hand instruments, bone filler material and bone scrapers, collagen and PTFE membranes, growth factors, fixation pins, and all disposable materials.
EXTRACTION SOCKET, SINUS MODULE: HANDS-ON (1/2 DAY)
Participants will practice on fresh goat maxilla models, with the latest implant designs, microsurgical sinus hand instruments, osteotome instruments, bovine filler materials and resorbable membranes and Growth Factors
Socket Grafting & Immediate Implant Placement
Socket Grafting & Cytoplast membrane
Lateral window approach using bone-cutting instruments
Lateral window approach using Piezo Surgery
Internal sinus elevation using Osteotome techniques
Internal sinus elevation using Piezo Surgery
Bone graft layering technique with barrier membrane
Sinus perforation treatment & repair
Each workstation is equipped with implant drill unit, dental implants, fresh goat maxilla model, sinus hand instruments, bone filler material, membrane, suture materials and all disposable materials.


LOS ANGELES, CA | PERIODONTIST & IMPLANT SURGEON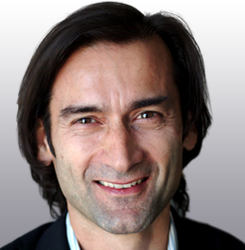 Dr. Sascha A. Jovanovic
is considered one of the founders of guided bone regeneration (GBR). He was formally trained in periodontics at UCLA School of Dentistry, in Implant Dentistry at Loma Linda University and in Prosthodontics at University of Aachen, Germany and holds a Master of Sciences degree in Oral Biology from UCLA.
He restricts his clinical work to dental implant therapy and bone & soft tissue reconstruction and is Founder and Academic Chairman of the gIDE Institute and Assistant Professor at Loma Linda University.
He is the past-president of the European Association for Osseointegration (EAO) and a past-Board member of the Osseointegration Foundation (OF). He is an honorary member of the South African Society of Periodontology, was the program chair of the EAO 2000 scientific congress, as well an award recipient from the American Academy of Periodontology, the California Society of Periodontists, and the German Implant Society (DGI).
Dr. Jovanovic's clinical research emphasizes esthetic management in dental implant therapy and bone and soft tissue reconstruction techniques. His applied research focuses on bone regeneration with different bone graft materials, growth factors and barrier membranes as well as the biology of soft tissues around teeth and implants.
He lectures extensively worldwide and has published over 65 articles and book chapters, and one textbook titled Color Atlas of Implantology (Thieme Publ.) which is translated in 8 languages. He is the Editor-in-Chief of the gIDE academic curriculum, is on several editorial boards for scientific journals and presents and teaches his implant protocols globally.

COURSE INFORMATION
Saturday, September 19, 2020 from 8:30 am to 5:30 pm at the gIDE Institute
COVID-19 DISCLAIMER
With respect to the safety of participants, faculty and staff attending and supporting the classroom sessions, all appropriate measures will be taken to ensure gIDE is cooperating with the regulations of the local government, official health departments and the meeting venues. This will include considerations to class size, appropriate spacing between seats, the wearing of masks by faculty, staff and participants, and any other measures that ensure necessary precautions. These steps will, of course, extend to lunches and coffee breaks. Face masks and sterilizers will be available and each morning temperature will be taken on each person entering the building.
Cancellation fee is $500 up to forty five (45) days prior to each program. After that date, there will be no refunds. gIDE may cancel scheduled courses up to thirty (30) days prior to the scheduled start of the course if certain attendance minimums are not met. gIDE is not responsible for reimbursing prepaid (including non-refundable) customer travel costs. It is recommended that customers who elect to incur travel costs for a training course, schedule and purchase airfare and hotel accommodations with this in mind.

gIDE Institute
12217 W. Pico Blvd., Los Angeles, CA 90064
8:30 am to 5:30 pm